Best Metal Detectors for Archeology Compared
*This post may have affiliate links, which means I may receive commissions if you choose to purchase through links I provide (at no extra cost to you). As an Amazon Associate I earn from qualifying purchases. Please read my disclaimer for additional details..
Metal detectors are becoming more popular for archeologists to use when excavating and evaluating archeological sites. This inexpensive tool has, over the years, been used to unearth lost artifacts like golden chalices, Bronze Age necklaces, meteorite pieces, and more.
Modern metal detectors are sophisticated and can distinguish between different metals. The detectors will differ in terms of adjustment and level of accuracy.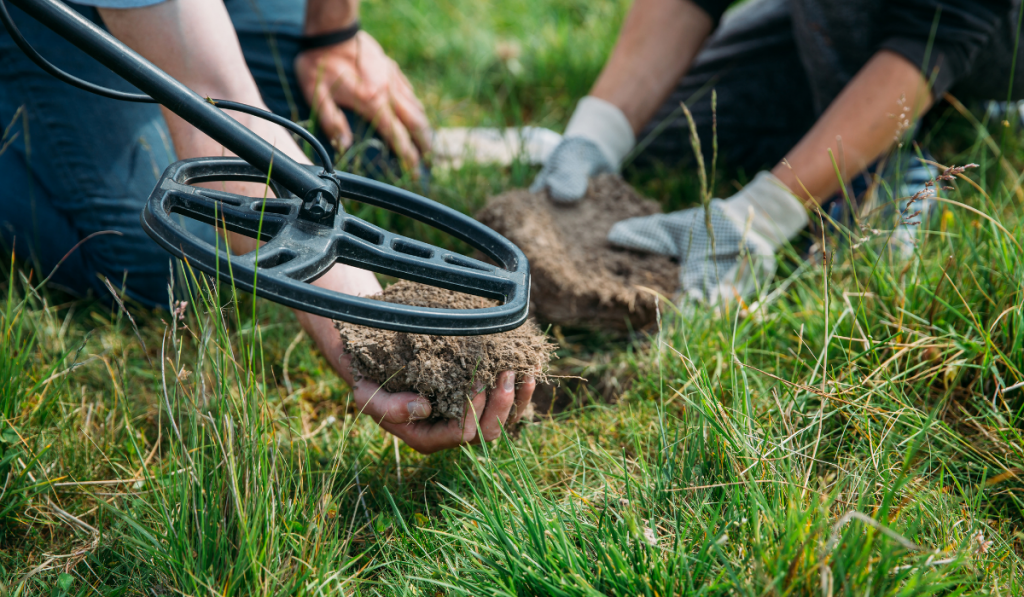 However, with multiple metal detector brands in the market, deciding on a particular one can be challenging.
Our comprehensive guide covers some features you should look for when shopping for the best metal detectors for archeology. We also list some of the top metal detectors you should consider based on their positive reviews and unique features.
Top 9 Metal Detectors For Archeology
Here are some of the metal detectors to consider.
1. Garrett Ace 300 Metal Detector
Sale
Garrett ACE 300 Metal Detector
Garrett ACE 300 Metal Detector with submersible Searchcoil
Includes 3 FREE Accessories:
Volume control Garrett ClearSound Easy Stow headphones
ACE Environmental Coverup
7″ x 10″ Searchcoil Cover
The Garrett Ace 300 Metal Detector is one of the best metal detectors for archeology, given its array of features.
It comes with a sturdy yet lightweight design that makes it comfortable to hold for an extended period. The padded forearm also supports the detector, which ensures you don't get tired of holding it.
You'll find five detection modes, including jewelry, relic, and coin modes. One mode activates the sensor and allows it to detect all metal types and check for objects hidden close to useless ones.
Additionally, the custom mode allows you to eliminate or add some types of materials. That increases your chance of finding your target object.
The metal detector also has a digital target ID that shows the conductivity of the target metal. A high value indicates the presence of gold nuggets, large jewelry, copper, and silver, while a low value shows the presence of small jewelry, iron, and steel.
With this scale, you can quickly tell the type of object buried underneath the surface.
The Garret Ace 300 Metal Detector also comes with headphones and a submersible search coil.
Pros
Fitted with target-depth indicator
Comes with an adjustable frequency and five detection modes
Lightweight and comfortable design
Cons
Some users found that the metal detector was a bit unstable over saltwater
2. Fisher F75 Metal Detector
Sale
Fisher F75 Multi-Purpose Metal Detector
Lightest weight / best ergonomics in the industry – powerful performance trigger-actuated target pinpointing with variable audio pitch – large lcd screen with 0-99 numeric target identification display
Double-filter discrimination modes for searching in trashy areas – magnetic mineralization bar graph and readout – trigger-actuated fastgrab ground balance
Non-volatile memory saves settings – backlight – for low light hunting conditions – low operating cost – typically 40+ hours with 4-aa alkaline batteries
The Fisher F75 combines technology and advanced features to make this detector versatile. Archeologists will enjoy the detector's better target separation, depth, and audio functionality.
Another impressive feature is the digital shield technology. The technology reduces the problems caused by fences or power lines, which allows you to get close to your target without the device becoming unstable or sounding off unexpectedly.
The Fisher F75 can detect a wide range of targets in various ground conditions as it operates at a 13kHZ frequency.
This device can shift frequencies to locate specific items like gold, silver, coins, or relics. The detector removes unwanted targets in iron-infested areas easily.
Its FastGrab function activates automatic ground balancing as it measures the soil's magnetic properties, which cancels any interference from naturally occurring minerals in the ground.
The LCD screen has the electrical signature of the detected item displayed. It also provides continuous information on ground mineralization.
The Fisher F75 is ideal for jewelry hunting, relics, and coin detection.
Pros
Comes with magnetic mineralization bar-readout and bar graph
Has double-filter discrimination modes for finding treasure
Fitted with digital shielding technology that suppresses electromagnetic radiation
It has an adjustable armrest
Provides up to 40 hours of battery backup
Sturdy design
Lightweight and balanced with a range of features
Cons
Expensive
Requires experience to learn how it works
Doesn't have headphones
Can be heavier compared to similar models
3. Nokta Makro Anfibio 14
Nokta Makro Anfibio Underwater Metal Detector
INCLUDES: Nokta Makro Anfibio 14 kHz Underwater Metal Detector with 11″ Waterproof DD Search Coil, Wireless Headphones, Coil Cover, USB Cable, AC Charger, and a Two-Year Warranty.
Fully submersible up to 5 meters (16.4ft.) – IP68. Waterproof and protected from total dust ingress.
Excellent Discrimination and Unmasking Ability. Save time by detecting the targets you want while spending less time digging.
New Design Coil. The new 28cm (11″) coil offers that extra depth you are looking for!
8 Search Modes: GEN, 2 Tone, 3 Tone, 4 Tone, 5 Tone, 99 Tone, Beach, Deep
The Nokta Makro Anfibio 14 Metal Detector is a professional and balanced detector that provides impressive performance and superior depth searching.
Although this detector is not designed for beginner detectorists (metal-detector users), professionals will find this gadget useful due to its list of features.
Pros
Fitted with inbuilt lights that allow you to use it in darkness
Can perform to an underwater depth of five meters
Comes with nine different search modes for optimum performance
Has an ergonomic handle to reduce fatigue
Cons
Only suitable for professional detectorists
Expensive
4. Minelab X Terra 705 Metal Detector
Minelab X-Terra 705 Gold Pack Metal Detector
VFLEX TECHNOLOGY: Automatically change frequency when you change coils to provide more targeted detection and enhanced immunity to outside interference.
COIL COMPATIBILITY: Easily switch between a full range of low- to high-frequency X-TERRA coils to find different metals and detect at a variety of depths.
TARGET ID STABILITY: Accurate discrimination and numeric target identification allow you to search sites with steady precision, even in high-trash areas.
PROSPECTING MODE: Improved sensitivity in highly mineralized areas enable you to reliably search for gold, small relics and jewelry.
ADJUSTABLE IRON MASK: This advanced prospecting mode screens out interference from nearby ferrous materials.
The Minelab X Terra 705 Metal Detector is one of the metal detectors designed for coin detection, relic hunting, prospecting for gold, and other things.
It's fitted with VFLEX technology that blocks any external interference that can disrupt the signal. It also delivers a fantastic user experience.
You can change the detectors by changing the search coil. You can modify the detector and adjust it to various conditions and environments.
Pros
Lightweight and durable design
Searches well in dim light due to the backlit LCD screen
Allows you to change the search coil for easy change of frequencies
Works well for both amateur and experienced detectorists
Cons
Doesn't include headphones
It's only waterproof up to one meter
5. Deephunter Makro 3D Metal Detector
If you're a serious detectorist looking for an advanced detector, the Deephunter Makro 3D Metal Detector fits the bill.
This metal detector is designed to locate objects, cavities, and voids, which makes your work simpler. Although the unit is expensive, it's capable of finding deeply buried treasure and individual coins.
Pros
Has a state-of-the-art search screen
Has a unique elimination system to ignore trash and junk metals
Can quickly identify deeply buried targets
Cons
Expensive
Only designed for professional and advanced detectorists
6. Garrett AT Pro Metal detector
Sale
Garrett AT Pro Metal Detector
Headphones Included
8.5″ x 11″ PROformance DD Searchcoil Included
Submersible Up to 10 Feet
High Resolution Iron Discrimination
Electronic Pinpointing
If you're looking for a professional metal detector that can help you find metals, coins, gold jewelry, relics, and more, you should check out the Garrett AT Pro Metal Detector. Apart from being an all-around fully waterproof model, it's also affordable.
Its target identification display lets you know the depth and type of metal in the jewelry. Both seasoned and beginner detectorists will find this detector simple to use as it has professional and standard modes.
One fantastic feature is its high-resolution iron discrimination and iron audio technology, making it simple to identify trash iron objects like washers or bottle caps from valuable ones.
Although the metal detector operates at 15 kHz, it has four different settings that allow you to change the frequency. Thanks to the electronic pinpointer pushbutton, you can quickly find the exact target location.
Pros
Has a comfortable arm grip
Comes with an adjustable frequency with three standard audio modes
Has 40 levels of iron discrimination
Submersible and waterproof
Cons
Some users experienced false positives in saltwater
Lacks a backlit display
7. XP Deus Wireless
The XP Deus is another top-rated pro metal detector.
The metal detector also has fully customizable controls that allow you to control and customize things from frequency to sensitivity. It also has multi-tones, volume, discrimination, ground balance, and more.
Its processing system has a remote control, audio headphone set, and a coil. A digital radio link connects the central system and eliminates wiring needs. That makes the whole system wireless.
Furthermore, you can control the volume, discrimination, frequencies, and ground balances via headphones. With eight user-defined fields and ten preset modes, this metal detector is an advanced unit that an advanced detectorist will find helpful.
Pros
Impressive performance and design
Fitted with customizable functions
Improved signal clarity and stability
Cons
8. Fisher F22 Metal Detector
Sale
Fisher F22 Weatherproof Metal Detector
ALL PURPOSE METAL DETECTOR: Weatherproof metal detector that can detect Jewelry, Coins, and Artifacts on land and shallow water. Finds metal targets on the surface and buried up to nine inches deep.
TREASURE HUNT IN ANY CONDITION: This metal detector is weatherproof for use in the harshest weather and environments. Rain or shine, this metal detector can find treasure.
JUST TURN-ON-AND-GO: A metal detector made for adults but easy enough for a child to operate. Easy-to-use features like discrimination, sensitivity, notch, and pinpoint make finding treasures buried deep underground a breeze.
The Fisher F22 Metal Detector was initially designed for beginners, but seasoned detectorists can also use it.
It has an inbuilt ability to detect the depth of the target, size, and type of metal buried underneath. The detector is also durable and lightweight.
The Fisher F22 detector runs on 7.69 kHz, which allows it to detect jewelry, small coins, and other artifacts. You can use it for up to 20 hours on a single charge.
Additionally, its LCD shows the depth level, numerical target ID, and battery level.
One feature makes it easy to set the volume of ferrous objects lower than that of nonferrous objects for clarity.
Other impressive features include four operation modes, a nine-inch triangulated concentrated search coil, ten levels of sensitivity, pinpoint functionality, and 20 levels of adjustable volume.
Pros
Simple to use
Has a weatherproof design for bad weather
Impressive accuracy identification and great depth
Easy-to-read interface and long battery life
Bright display screen
Cons
Some users felt that the depth finder wasn't as accurate
Lacks manual ground-balance
9. Bounty Hunter TK4
Sale
Bounty Hunter TK4 Tracker IV Metal Detector
Rugged metal detector ideal for detecting treasure in extreme ground conditions
Motion All-Metal mode, Discrimination mode, and 2-Tone audio mode
Preset ground balance neutralizes response to mineral content in the ground
Disc/notch control distinguishes between targets and unwanted metals
Rugged metal detector ideal for detecting treasure in extreme ground conditions
The Bounty Hunter TK4 Metal Detector features a preset ground balance that neutralizes false alarms and saves you time. Its durable metal frame and outstanding ground balance make this machine suitable for wet or littered surfaces.
You can detect common metals like silver, gold, brass, iron, aluminum, and steel. The only downside is that there's no way to tell the exact type of metal discovered.
Previous users also found the controls challenging to use as it takes time to get used to them. Also, they only provide general information on what's detected.
Pros
Easy-to-understand display
Ideal for wet or filthy ground conditions
Inexpensive
Durable metal design
Detects common metals
Cons
Lacks precise sensitivity control
Uses two 9V batteries, which can be expensive to continually replace
Buyer's Guide: Getting a Metal Detector For Archeology
Metal detectors are tools used to detect the presence of metal in buried objects.
A detector consists of a handheld part and a sensor probe that's swept over the ground. Once the metal is detected, a needle on the indicator will move.
Here's everything you need to know when buying a metal detector.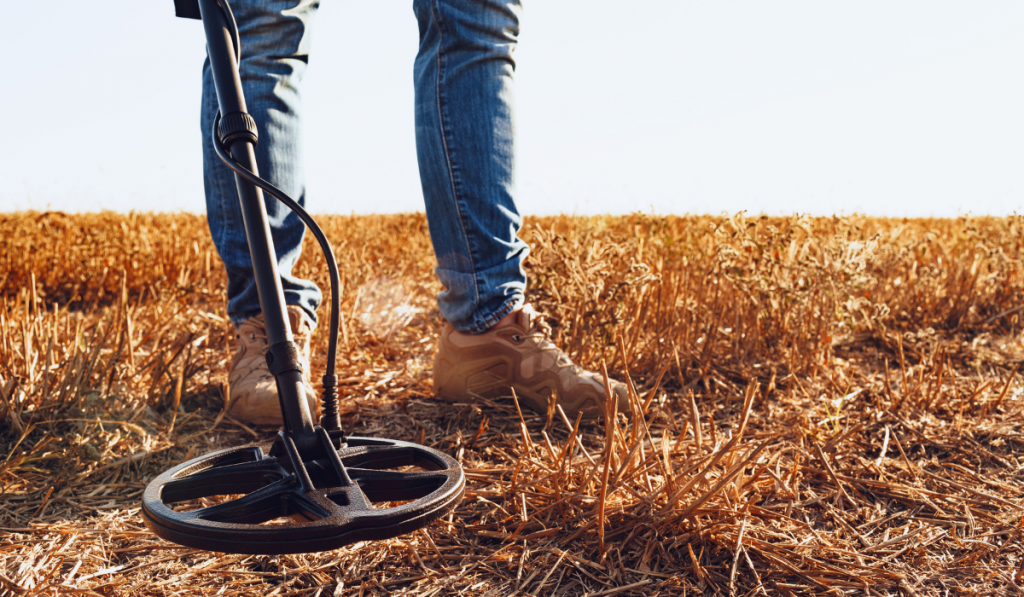 Understand the Different Components of Metal Detectors
Metal detectors have the following components.
Control Box: It's the brain of the metal detector and houses the circuitry, controls, speaker, microprocessor, and batteries. A few models have jacks for headphones.
Stabilizer: A stabilizer keeps your detector stable as you sweep it over the ground. It's a brace that supports the detector's weight. You'll find that most metal detector manufacturers have stabilizers as standard equipment, but a few provide them as optional equipment.
Shaft: The shaft connects the control box and a search coil. Different detectors have varying shaft designs. Some have a flat S shape that connects the LCD and meter. It helps with adjustment and viewing. A few are adjustable and allow you to set the correct distance based on the searcher's height.
Search Coil: The search coil senses the metal. It is also called a search antenna or search head.
Audio Jack: It connects the headphones and eliminates background noise allowing you to focus on finding metals.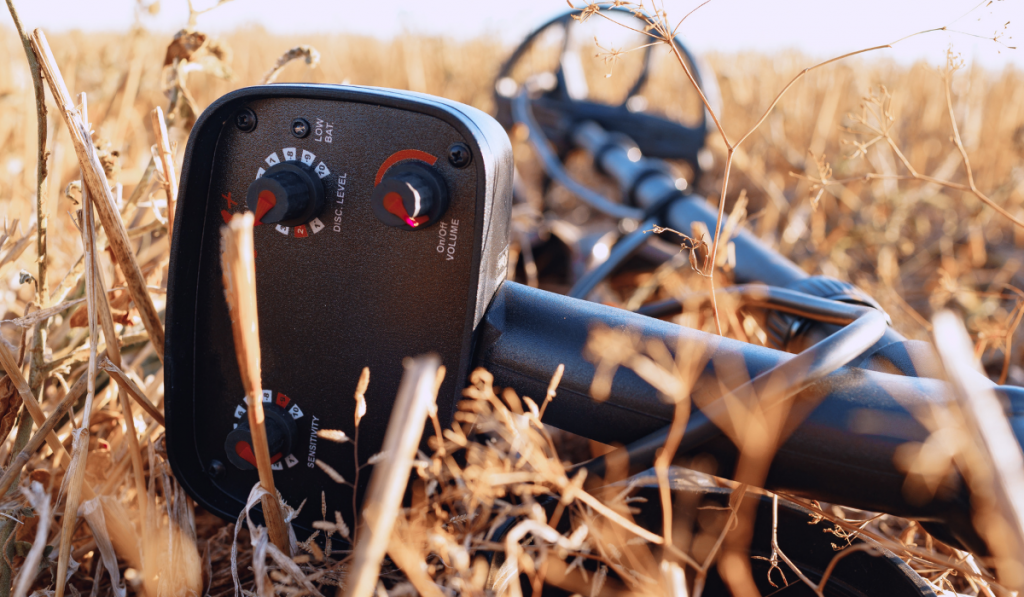 Get to Know the Different Types of Metal Detectors
Some common types of metal detectors include VLF or very low-frequency detectors that can differentiate metal types through phase shifting.
Phase shifting is the timing variance of the metal and the transmitter coil frequency.
A less conductive item's magnetic field takes less time to alter because of a small phase shift, while a highly conductive metal has a long phase shift as the magnetic field takes longer to alter.
VLF detectors use two coils, one that acts as a transmitter that gives off electricity, while the other functions as the antenna and receiver to pick and increase frequencies from metals.
Multiple frequency (MF) detectors have different frequencies that determine and differentiate various metals. These detectors are expensive and are reserved for advanced detectorists. You can also use MF detectors in salt water.
Pulse induction detectors allow you to go hunting in saltwater beaches or areas considered to be of high mineralization.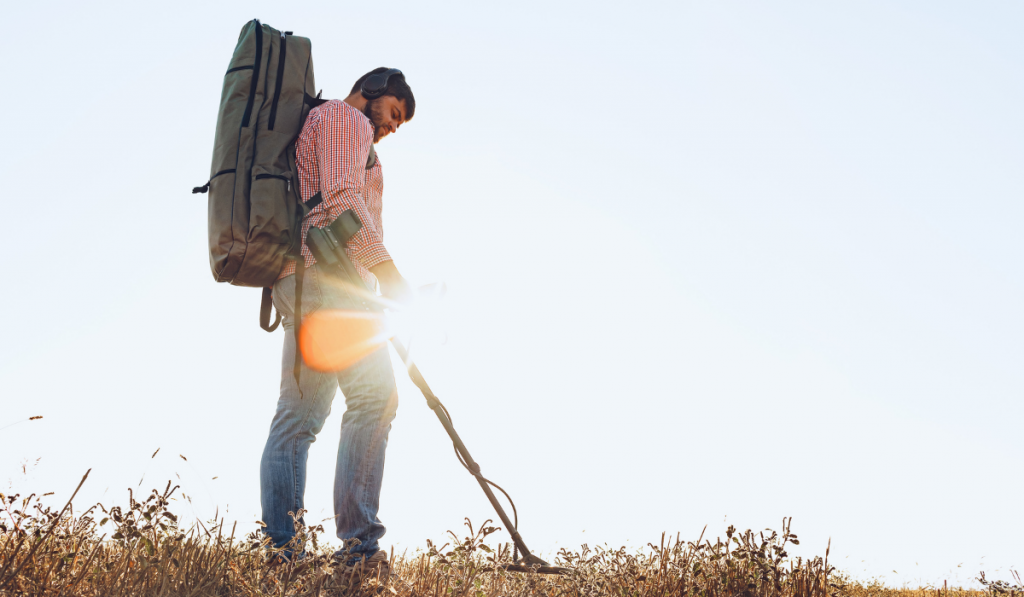 The User
Before getting a metal detector, determine who the user will be first. That allows you to buy a device that fits the user's needs.
Decide if the user is a beginner or an advanced detectorist with years of experience.
Beginners will do well with a less-expensive model fitted with basic features. Advanced detectorists will need a professional machine with unique features that can easily find the target location.
You also need to study the area you live in.
You'll need a weatherproof machine if you live in a rainy area. Most metal detectors have waterproof search coils that can be submerged up to the control box.
Underwater devices work well for divers.
Buy From Renowned Brands
Buying your metal detector from a recognizable brand guarantees quality and durability. You are assured that, should the unit malfunction, you can have it repaired or replaced.
A few good brands include XP, Minelab, Garret, Fisher, and Teknetics.
Final Thoughts
Metal detecting is a hobby that allows you to explore the outdoors and learn from unique finds. Our comprehensive guide lists some of the best archeological metal detectors based on their special features and capabilities.
As a beginner, opt for a bargain model with useful features. Professional detectorists will find high-end detectors convenient as they have advanced features that make work easier.
With our buyer's guide section, we hope you can now make an informed decision based on your needs and budget.
Resources: